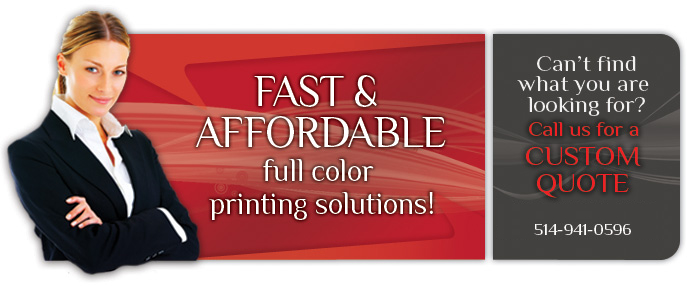 24-hour turnaround on all business card orders from 250 - 25,000!
Call us today for details! US: 518-569-2522 / Canada: 514-941-0596
Get More From Your Printing!
New York's Fastest, Most Affordable Printer
Need your printed materials fast? On a tight budget? Want high-quality work? You've come to the right printing company! We pride ourselves on helping business clients just like you with our extensive printing services. We feature wholesale prices with one-day turnaround on the majority of our printed products. Printing high-quality marketing materials fast has never been easier or more affordable with Quicker Print. New York isn't known for being slow or behind-the-times and neither are we. We keep ourselves up-to-speed with New York and that means convenient, fast online ordering and quick delivery. We've got it all taken care of. It might sound like a lot to bite off, but we call ourselves New York's best printer for a reason.
A Printer Company You'll Want to Work With for All Printing Services
At Quicker Print, we aim to offer you more than any other printing company can. Here are just a few of the characteristics that set us apart:
Full-color printing: striking, full-color work at wholesale prices
Quick turnaround: many of our orders print and ship within 24 hours
Direct mailings and mailing lists: we save you time by fulfilling your marketing mailings
Environmentally-friendly products: we offer recycled stock and vegetable-based inks
Instant savings: our clients often see 10% savings or more on their printing projects
Quality, Affordability, Reliability All in One Printer
Since 1961 we developed have the experience and track record that keep our clients coming back...now we want you! Why not "benchmark" us by trying us out on your next project?
For decades, we've brought the latest in printing to keep you up-to-date and on track. We offer graphic design services, custom work, and marketing solutions to complement our printing services. We're in it to serve you and we've learned a lot along the way to best help you do that. Get a free expert consultation on your printing projects. We think you'll like what we can offer you. Come visit our convenient sales office in Plattsburgh, New York or contact us by phone or email. We look forward to working with you!
Best regards,
Digitaria Publishers

Are You Ready For A Challenge?
We are Ready for Your Marketing and Printing Challenge
Let us help you reduce your current marketing, printing and paper costs by 10% or more. We guarantee that our solution will improve your marketing bottom line immediately.
Digitaria Publishers specializes in developing and deploying cutting-edge procurement processes aimed at reducing your current production costs.
Our solutions will bring you absolutely no financial risk, offer innovative quality controls and contain zero hidden costs.
The Digitaria Publishers Difference
We provide you with the technical, strategic and marketing skills other printers tend to overlook. You can rely on our powerful supply chain and production team from the comfort of your offices.
You benefit from our cost efficiency and our commitment to excellence in quality and delivery.
The Digitaria Publishers advantage is cost savings – so you can invest more in growing your business.
Lowering Print Costs, Raising Your Margins
As the marketplace for printing and paper evolves, clients are growing more frustrated by frequent increases in paper costs, postage increases and transportation delays.
We have the inside track on reducing production costs and helping you maintain long-term profitable margins.
Don't ignore or delay your decision to take advantage of our no-risk offer. You owe it to your company, your staff, and yourself to see how much money can be saved and how your quality can improve.
Call us today to tailor a printing and marketing program around your particular needs.
Take a look at our electronic catalogues: